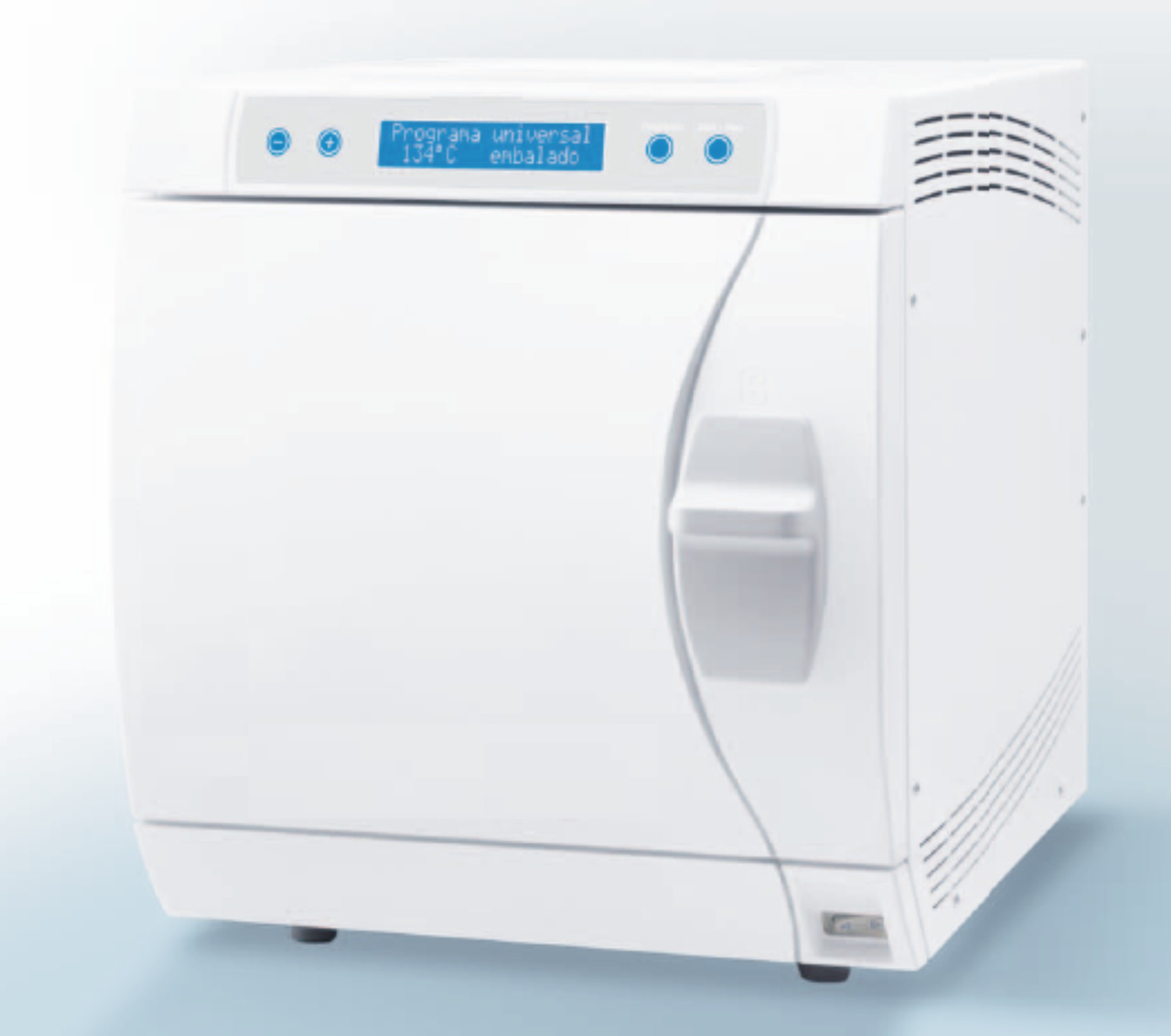 With the Eurokolprn - autoclaves, Kolpen offers an even more cost-effective alternative to the Vacuklav - series. The Eurokolpen- autoclaves fulfil the strict stipulations of the "Class S" according the European Standard EN 13060, and are designed for applications in doctors' practices in which the instruments used and the types of instrument wrapping do not require "Class B" autoclaves. The Kolpen Eurokolpen - autoclaves are high-tech autoclaves which have been examined by an accredited testing laboratory. The Eurokolpen 23 VS+ is thereby suited for the sterilization of wrapped, simple hollow instruments of the type "Hollow B" (according to the definition in EN 13060) and small quantities of textiles, also wrapped.
The Eurokolpen 23 VS+ has an effective vacuum pump which creates a vacuum at the beginning of the sterilization process in order to assist the air evacuation from the chamber and to create a post-vacuum for optimal drying results especially for wrapped goods.


The Eurokolpen 23 VS+ is designed as a "stand alone" device and only needs a power supply. Without any further installation the autoclave can be operated by its built-in water storage tank for demineralized water and for used water separately. For a more pleasant operating the Eurokolpen 23 VS+ can be connected with the water treatment system Kolpendem 40 or Kolpendem 47 to a water source and drain. The supply of demineralized water and the drain of the used water will happen automatically.


The required documentation of the sterilization cycles is carried out over the built-in interface connection to the report printer Kolpenprint 42 or to the connection to the practice PC. The documentation software Kolpenwin is required for this.


Additionally, it is possible to connect the Kolpenflash CF Card Printer used to save the sterilization records on the Kolpenflash CF Card. The sterilization records can be read out on every PC with the Kolpenflash CF-Card Reader.
Incorporation in the practice network is effected by connecting the Kolpenet Box to the serial interface of the autoclave.Thus, the sterilization protocols are imported to the user P.C. The Kolpenet Box is fitted with independent software which places websites in the user network so that you can view protocols from any computer.
The documentation of the release is carried out with the Kolpendoc system, consisting of the documentation pages and the label printer for sterilization packaging.


For the optimal employment of the chamber, you can select from three mountings: the mounting C for 6 trays or for 3 standard tray cassettes is standard. Likewise different sterilization containers are available.
| | |
| --- | --- |
| Dimensions: | |
| Outside dimensions: | Width: 42.5 cm x Depth: 66 cm x Height: 48.5 cm |
| Chamber: | ø25 x 45 cm, volume 22 litres |
| Tray: | Width: 19 cm x Depth: 42 cm x Height: 2 cm |
| Weight: | 43 kg |
Power supply:
230 Volt / 50 Hz / 2,300 Watt
Program
Sterilization time:
Cycle time

(warm start):

Drying time:
Universal-Program


(134°C / 2 bar)

5 minutes
ca. 20 minutes
15 minutes
Quick-Program


(134°C / 2 bar

3,5 minutes
ca. 13 minutes
10 minutes
Gentle-Program


(121°C / 1 bar)

20 minutes
ca. 32 minutes
15 minutes
Prion-Program


(134°C / 2 bar)

20 minutes
ca. 37 minutes
15 minutes
Bowie&Dick-test


(134°C / 2 bar)

3,5 minutes
ca. 23 minutes
-